I stopped to fill up the minivan yesterday while driving home and D & E were asleep. There was a line and so as I waited, I saw a colorful bumper sticker (magnet, actually) on the car in front of me.
I typically am not a huge fan of bumper stickers. There are only so many things that I want plastered on my car that I both believe in and wouldn't make others want to slam into my bumper.
But this one said this:

I started tearing up. This is exactly how I feel about our child with Prader-Willi syndrome, our Dean.
INSPIRED by.
Each of my children teach me many things about life, about God, about myself, and about what's important. They motivate me to be a better person, for sure.
But there is something about Dean that INSPIRES me. And others. It's difficult to explain. It's that feeling I've mentioned before about Dean being like an old soul who's been around the block a few times before. That he loves so unconditionally. That despite his ridiculous challenges, he just keeps going. That the world will likely not understand him, and yet he's got us all beat i so many respects.
I wrestle with the "God Chose Me" part only because I can think of better candidates for the job of raising a child with special needs. But if God *did* choose me, I'm so glad He did. I need my Deano. People mention all the time that Dean is lucky to have us, but really? We're "lucky" (or whatever :)) to have him in our family. Every. single. day... we are inspired by him.
I looked into the bumper magnet and found
GodChoseMe.com
, the brainchild of Pam Mines. It started with a book...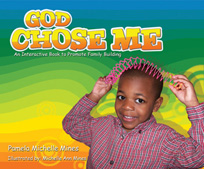 ...and went from there.
Pam has started this ministry to special needs families and the resulting outreach to the communities of those families. We are hoping to meet her next week at the
One SMALL Step for Prader-Willi syndrome walk in Williamsburg
.
She also has a
Facebook
page. Check it out.
Pam is going to make a similar bumper magnet except about PWS. I'm so excited! Let me know if you are interested in buying one and I'll be sure to let YOU know when it's available. :)
Note: I was not paid to write about this, I just really like it. :)